(Last Updated On: October 30, 2018)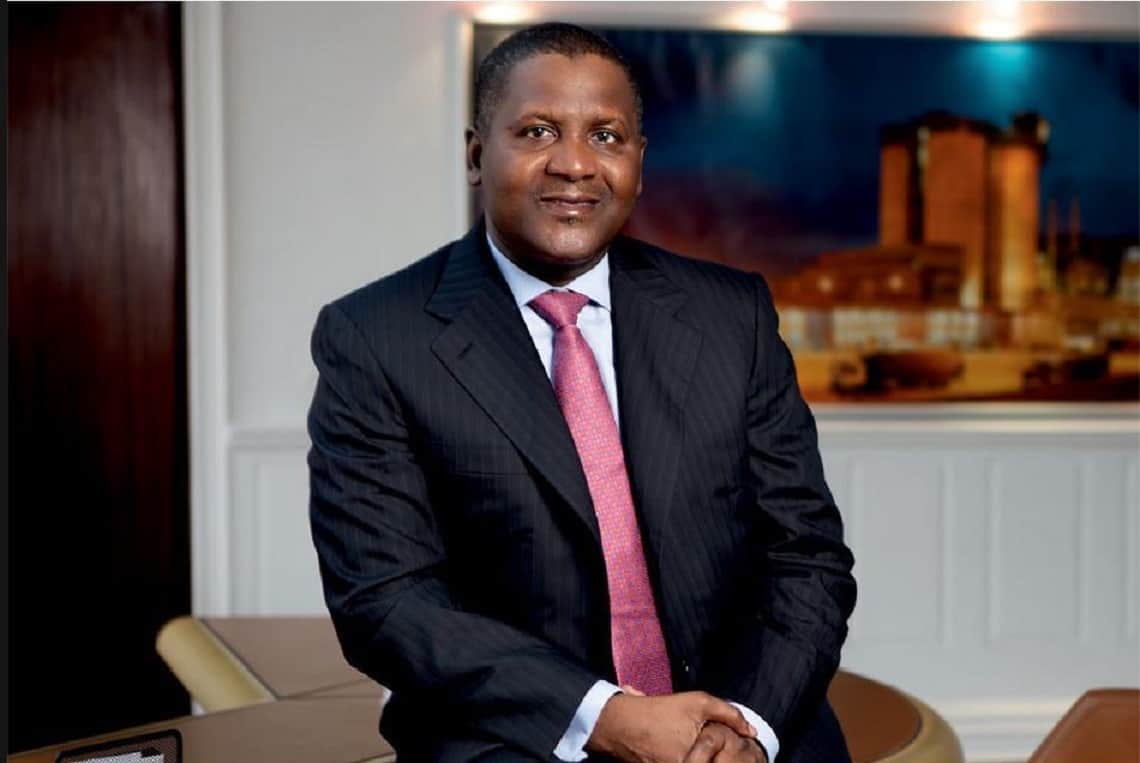 Aliko Dangote, Africa's richest man, and his empire, the Dangote Group, according to reports are responsible for over 10 percent of Nigeria's gross domestic product (GDP) today.
The report, published by TIME Magazine, says Aliko Dangote is currently worth $14.1 billion, but his company's investment is responsible for much more than his net worth.
According to the World Bank, Nigeria's GDP stood at $404.653 billion by the end of 2016, maintaining its stand as Africa's biggest economy, over South Africa and Angola.
"Dangote Group claims its investments contribute upwards of 10% of Nigeria's GDP, a figure supported by outside economists," the TIME report read in part.
This suggests that Dangote Group has investments worth more than $40 billion in Nigeria, ranging from cement to food products, and now, to oil and gas.
Dangote Group is currently building the world's largest greenfield refinery, estimated to be worth upwards of $10.5 billion.
The billionaire also runs arguably the biggest cement company in Africa, with an operating revenue of N240 billion as at Q2, 2018 and a market cap of N3.62 trillion (over $10 billion).
Dangote Cement is also the biggest company, by market cap, on the Nigerian Stock Exchange, ahead of Nestle and Nigerian Breweries combined.
In 2016, MTN Group, the biggest telecommunications company in Nigeria and on the continent, also claimed to have been responsible for about 4.5 percent of Nigeria's GDP.
Dangote Speaks On Why He Admires Trump.
According to the TIME report, Dangote admires President Donald Trump of the United States, for his protection of local American businesses, arguing repeatedly that "old-fashioned protectionism is the only way to build Africa's industries".
"When foreign competitors come into our market and dump their products, there is no incentive to build our own industry," Dangote told TIME.
"Are we to be captive to foreign companies? No. If America is now rising up to protect her industries, why shouldn't African countries rise up to protect their own?"
Dangote recorded an explosion in his wealth after President Olusegun Obasanjo put policies in place to protect local manufacturers and their products.
Dangote's Dream
Being Africa's richest man is not enough, Dangote also dreams to be the biggest giver to charitable causes in Africa.
"I want to be known as the biggest philanthropist in Africa," he said, stating that he aims to have a foundation worth $10 billion within the next five to seven years.
He has already invested $1.2 billion in the foundation, and was recently named the sixth most charitable person in the world.
He also wants to build and run Nigeria's biggest diary farm, with over 300,000 high-yield dairy cows, meeting the needs of the West African region.
"With the right kind of support, we could feed the entire West African region. It's possible. Not today, but in the next 10 years," he added.
Source:NaijaNews